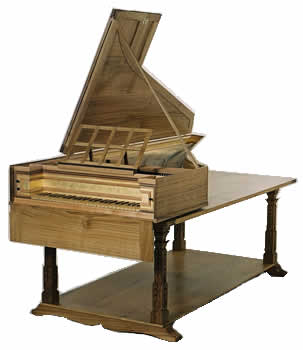 Harpsichord after Lodewijk Theewes, London, 1579.
This instrument, made by a native of the Netherlands who had moved to London for religious reasons, is of crucial importance in tracing the development of harpsichord making in northern Europe before the Ruckers family dominated the scene.
It also provides a unique link to the English virginalists, since the first owner, Anthony Roper, was a close friend of both Thomas Tallis and William Byrd. A detailed description of the instrument can be found in:
Malcolm Rose, Further on the Lodewijk Theewes Harpsichord. Galpin Society Journal LV, 2002, pages 279-309.
www. music.ed.ac.uk/euchmi/galpin/
For the history of the instrument and its ownership see:
Malcolm Rose, The History and Significance of the Lodewijk Theewes Claviorgan. Early Music, Vol. XXXII/4, Nov. 2004, pages 577- 593. www.em.oupjournals.org
Specification:
CASE

solid oak. Lid in oak, either flat as in the original, or of frame and panel construction

SOUNDBOARD

of spruce. Bridges and nuts of pear; scaling 346mm (8'), 171mm (4').

ROSE

original is missing, but was made of parchment.


KEYS

missing. Keys in copies of the instrument are made with reference to Ruckers harpsichords and the earliest English virginals. Naturals of boxwood; sharps of walnut inlaid with a chequer pattern of holly and ebony.

JACKS

of pear and holly with bristle springs. One complete jack and two fragments survive.

DISPOSITION

two registers at 8', one at 4'.

PITCH

open to discussion, but a pitch of A400 has been the most successful choice. A transposing keyboard is possible.

COMPASS

C to c''' chromatic, but C# would most likely have been tuned to AA.

DIMENSIONS

| | |
| --- | --- |
| length | 2128mm (83.8'') |
| width | 897mm (35.3'') |
| height | 217mm (8.5'') |
RECORDINGS
Elizabethan Keyboard Music
This short CD recorded by James Johnstone is now available.
The programme is as follows:
| | |
| --- | --- |
| Third Pavan and Galliard | William Byrd |
| Engelsche Fortuyn | Jan Pieterzoon Sweelinck |
| Coranto Brigante (Mus. Brit. 74) | John Bull |
| Coranto (MB 79) | |
| Fantasia II on Vestiva i colli (MB 9) | |
| Fantasia in foure parts | Orlando Gibbons |
Total playing time 22 mins. See CD Recordings
His Humour
Twenty pieces by Giles Farnaby, played by Tim Roberts. See CD Recordings
Peeter Cornet
Music by Peeter Cornet, played by James Johnstone. See CD Recordings
William Byrd
Music by William Byrd, played by Gustav Leonhardt. See CD Recordings.